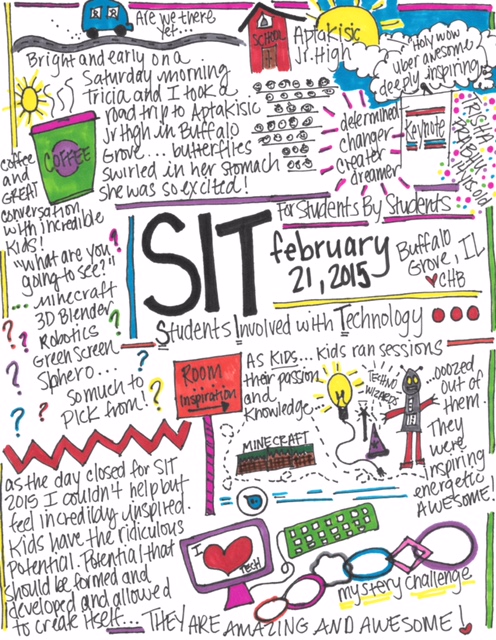 A sketchnote Carrie Baughcum captured at the Buffalo Grove SIT Conference 2015.
I love the story behind it:
My friend told me about it, conference for students by students."You totally should come. Your daughter is finally old enough to attend. Tech and kids…it's a fantastic day," she said.

I signed my daughter up to attend the Buffalo Grove SIT Conference 2015. Then I decided why should she have all the fun and I signed up to be a volunteered at the conference!

Bright and early on a Saturday morning my daughter and I drove to Buffalo Grove, IL. There we would join hundreds of other 3rd-12th graders for a technology conference for students by students. To top that there would also be four other SIT Conferences going on the exact same day and time as ours throughout the state of Illinois!!!

As quickly as the keynote my daughter was off with her friend to the sessions they had selected. The conference had started and to say it was a beyond awesome experience would be an understatement. This sketchnote is just pieces of all the awesome that happened at that amazing conference for kids!!
You can see more sketchnotes by Carrie on her website.
Thank you for sharing with us, Carrie!
- Mauro